The Gig @ Tin Pan Alley
after the non-winning, disqualified yet superb (hehe) performance at the student band competition, the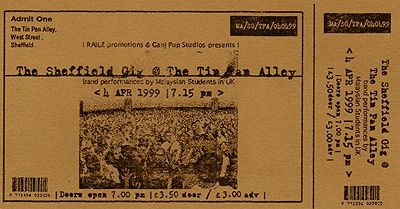 guys decided that it would be great to hold their own gig. spearheaded by AJ, RAILZ productions and Ganjpup Studios organised themselves on a shoestring budget and got their act together. sheffield had three acts. a megadeth tribute act called
rattlehead
,
bubu & friends
and extended coordinates, renamed as
f.a.k.a.p
.
nikotin
, a band from london's imperial college who have been on the malaysian gig circuit in the UK was happy to come up to sheffield and so did some guys from the universities at liverpool, huddersfield and portsmouth.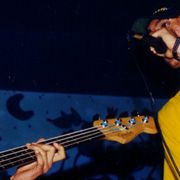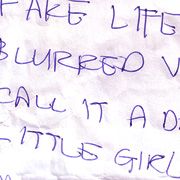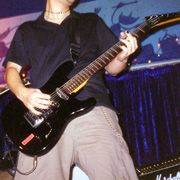 the gig was held on easter weekend at a now demolished small room called Tin Pan Alley. backline was provided by AJ and kudo whilst spare backup amps were hired from moon music. a small and not-so-brilliant PA system was available at the room. the FOH soundman was the club owner and we had armijn playing roadie. tickets were selling like hot cakes much to their surprise and the gig kicked off with
rattlehead
opening with a bunch of raucous megadeth covers. the huddersfield lads got up next and played some old rock classics, with great vocals to boot!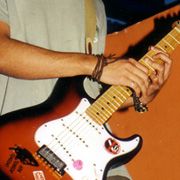 bubu & friends
got the crowd going with tunes from machine head and sepultura. the only bit that we could hear from the frontman was "the police! the police!", and adrie was up there riffing with his SG, smiling all the way in a not-so-metal fashion. metal mayhem seemed to be the order of the evening as the portsmouth (ex-
lucknut
) three-piece got up and did a blazing metal list.
for a little diversity, a bunch of liverpool university guys on turntables were DJ-ing and MC-ing, with AJ and karof from sheffield providing the bass and drum thumps. the MC was a medical student who would later form one quarter of malaysia's own
teh tarik crew
. altimet was dope, doing his thang off the cuff.
nikotin
got onstage and, as they have done at the various gigs they've done, played a great set of their own material. everyone was waiting for the headlining act.
f.a.k.a.p.
got to the stage and played an entire RATM set without the fear of being disqualified ever again! their performance was the one that had the entire room going absolutely mental. the one thing that can happen if one organises a 5-hour gig with a 7-band set and not having the amps mic-ed would be overheating. and overheated were the two marshall valvestate amps.
virtually simultaneously
. the last two bars of
killing in the name
was done with the aid of ganja's drumming and bagak's basslines only!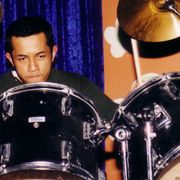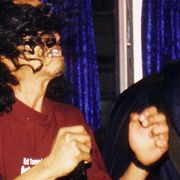 we packed up, ferried the bands/gear home and headed off for some freshly made
roti canai
at 27 filey street. safe to say, everyone had a blast.
_____________________________________
whilst not playing diagnostician,

kudo

plays bass in maniacs, eats noodles and fervently buys gear on e-Bay.