Pria Mambo 2: Redemption
some time ago in a residential school in kuala kangsar, a gig by the name of
walpurgis night
was disallowed by the teaching staff because of the connotations the name brings. that gig went on but by another name. the name of this gig in sheffield on april 20th, 2002 was a homage to that night.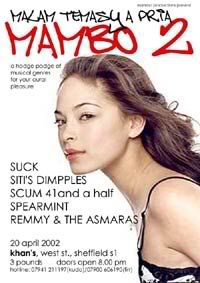 malam temasya pria mambo 2
. anyone (not many, though!) who has been in sheffield long enough would remember that gig. fresh from the BOTB in newcastle, shahid, firr and kudo got around to rally any band that would come to sheffield for a song or two. like
suck
, 4 out of the 5 bands that played in newcastle still had that itch and wanted in! in addition to the lineup, another sheffield band,
remmy & the asmaras
led by imran, was reined in as well.
sorting the gig was easy enough. kudo and firr provided the guitar amps, whilst all three of them got enough money to hire a party room above the eponymous khan's restaurant on west street, as well as a PA system and a bass amp from london road's moon music. james lent the gig organisers his drumkit whilst the drummers from
siti's dimpples
and
scum 41 and a half
were so kind to let every band use their expensive sabian cymbals on james' humble drumkit. firr printed tickets and flyers and away they went.
this time
suck
went in with a more relaxed attitude. a new set list was made and with bobby busy revising for his A-levels, they got
siti's dimpples
to lend them their drummer, amir. doors were opened at 8pm and the crowd milling in was not too bad, number-wise. with khan's being a small place, the gig had a comfy vibe going with the audience up real close to the stage. the evening kicked off with
remmy & the asmaras
performing a couple of original rocking tunes penned by imran.
spearmint
had a varied mixture of tunes up their sleeves, ranging from weezer's
pink triangle
to santana's
black magic woman
. pity there were no congas!




the winner of the previous month's BOTB,
siti's dimpples
, rocked the house (or room, rather) with nickelback and linkin park tunes. the highlights of their performance were the theme from p. ramlee's
tiga abdul
and sharifah aini and broery's
seiring sejalan
. syeikh's out-of-tune version of broery was somewhat endearing, to say the least!
it has to be said that when the home band plays, that is the band that gets the most support.
suck
came up next and kicked off their set with carburettor dung's
boo hoo clapping song
. their set flowed smoothly (with the odd hiccup) much to their delight. as firr once quoted, "
music is to be enjoyed, not endured
", that motto held true that evening.




the last act,
scum 41 and a half
got to the front,
sans
kilts and sporrans, and belted out punked-up 60's tunes
a la
those by
me first and the gimme gimmes
. after the gig ended everything was cleared in under an hour, with the help of all the band members. everyone ordered some late nite pizza and got home exhausted, followed by a little do at TGIF the next day.
this was to be sheffield's last proper malaysian gig to date.