The night that was
by kudo
someone wanted a review. i wish i could, but as a co-organiser, as much as i would reassure my neutrality in my writing, people may still accuse me of some bias. as i did last year, i'd do a post-mortem on this year's event.
we had more people coming this time. so much so, we'd probably have a scuffle on our hands at the doors. on our part, we admit to our mistake of a recent online announcement of a
handful
of tickets being available. one person then thinks bringing five mates would do for a handful. but imagine when twenty people think that same thought. do the maths. we do apologise if this had caused some inconvenience to some of the disappointed punters. we are but human. although we would like to quickly point out, tickets were being sold
many weeks
in advance of the event. so, you all know what to do next year, don't ya?
we had great bands again, half of which were new faces. it was great to have new blood as we wouldn't want the gig to sound exactly like the 2006 gig. we had great guitar players proving, time and time again, it doesn't matter whether or not the guitar came from a car boot sale, you'd still sound fantastic if you're good. this would be the last time we'd see farid's faithful tama swingstar kit. so, we'd have to think fast of what to have next year!
this time, the presence of the opposite sex onstage had improved tremendously (we had an all-girl band from reading university in our waiting list last year - wonder what happened to them?), which was a welcoming change. this year also saw heavier sets played by the nine bands. we do encourage variety (remember terrel brigade last year?) and we still do for the coming gigs. so, if you have a mariachi band for next year's gig, please don't get discouraged from applying for a slot.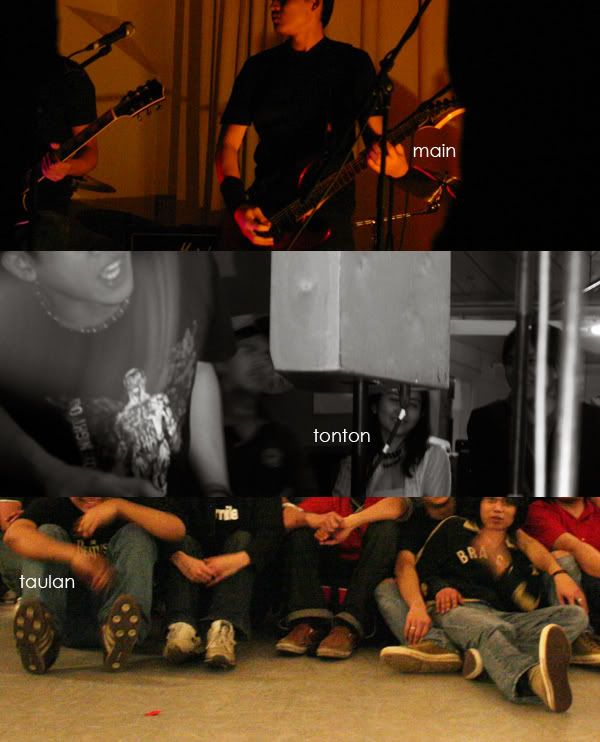 on the whole, the vibe we got from most of the people (can't please everyone, can we?) at the gig was the tremendous improvement of the audio at this year's gig. it was a great pity that two of the best available backline got busted (12th flames was one lucky band). we appreciated the difficulty faced by some of the bands (ours was one of them) with regards the sound onstage. it was natural that things improve as the evening went on, but that is how it is. the show goes on. some better and harder working
real bands
put up with shittier sound at crappy pub venues on a regular basis (and they do this for a living), so who are we to complain. big up to waq and chris for doing a great job and being real pros.
i think that summed up the gig pretty much. it'll be the same again, next year. same old venue. same number of bands playing a 20-minute set each. still just one band to soundcheck. that's what the gig @ sheffield is all about. glasto won't be glasto if they moved to blinkin' wembley stadium, would it?
unless someone gives us a million bucks...
_______________________________
kudo was a co-organiser of the gig @ sheffield and is impatiently waiting for a wembley gig in june